ECOMULTI COMPACT is a proportioner that can dilute up to four chemicals from one dispenser. Connected to a water mains, the compact design makes these one-stop cleaning stations the ideal solution for even the smallest cleaning environments. It is available in low-flow (4L/min) and high-flow (14L/min) versions enabling selection of up to 13 specific dilution ratios.
Product Information
Water pressure
2 - 5 BAR
Available in
4 l/min
14 l/min
Dilutions
2:1 - 128:1 Low-flow
6:1 - 350:1 High-flow
Temperature
5 - 65 °C
ECOMULTI has been designed with Brightwell Dispensers' patented dilution pin which eliminates the need for metering tips. It is available with BrightGap and Airgap backflow preventers.
Features
2 versions: Low-flow (4L/min) and High-flow (14L/min)
Flexible configuration enabling chemical concentrates to be conveniently delivered from side or bottom inlets
Patented dilution technology offering precise dilution ratios
Intuitive 4 dial product selector with haptic click to avoid chemical selection error
Colour-coded pictograms to aid identification of correct cleaning chemical and use
Ease of Installation: Drilling templates, built-in spirit level, multitude of mounting holes
Safe and secure chemical cabinet available for 1.5L pouch &  2L bottle
Chemical exclusivity option for pouch system
Unit and cabinet rings available in various colours
Branding available
Explore the product in more detail and view it in operation: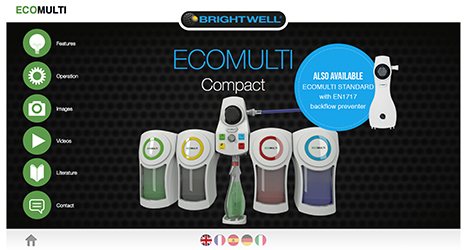 Download