The Quantura 10/10+ is Brightwell Dispensers' new, competitively priced, single peristaltic pump system. Intended for dosing one dishwash chemical into glass or under-the-counter dishwashers. The unit can be used for detergent, rinse-aid or sanitiser.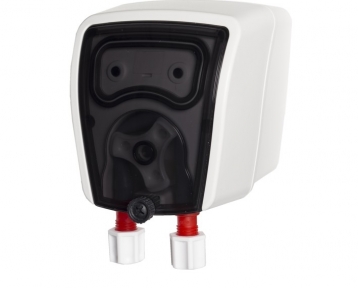 Product Information
Power Supply
100 V - 240V AC
Flowrate
Detergent: 10ml/min to 130ml/min
Rinse Aid: 3ml/min to 70ml/min
Sanitiser: 5ml/min to 130ml/min
Motor
Brushed 24V DC
Dosing
1 product
Settings
Time / Speed / Probe

Easy installation and configuration together with reliable tube fittings, make this system the ideal dosing solution.
FOUR DISTINCT OPERATING VARIANTS ARE AVAILABLE:
• Timed – Configurable initial & top-up charge durations
• Speed – Configurable pump speed & cycle time
• Probe (conductivity) – Continuous measurement of the chemical concentration and automatic top-up of chemical when needed (only available for Quantura 10+)
• Remote Dose – Manually operated, remote top-up button (only available for Quantura 10+)
Features:
DESIGN
• Professional, modern design
• Compact size
TECHNOLOGY
• Special Pulsing Technology to achieve super low flow rates
• Water resistant, durable polypropylene enclosure
• High performance polymers offering durability, impact resistance and safety
• Optional conductive probe attachment (for Quantura 10+ only)
PROGRAMMING
• Intuitive and easy-to-use interface
• Quick configuration and set-up
INSTALLATION & MAINTENANCE
• Every pump is pre-wired to reduce installation time
• Wall bracket mounting with integrated spirit level
• Easy clean, hygienic, robust front cover
• Peristaltic tube compression fittings as standard