Touch free dispensing solutions for effective hand hygiene by Brightwell Dispensers
Straightforward hand washing with soaps and alcohol disinfectants greatly reduces the risk of cross-contamination and infection; however, contamination can also happen by touching the dispensing system. Anything that is touched regularly can become a breeding ground for germs, increasing the risk of spreading viruses and bacteria. For facilities conscious about cross-contamination, touch free soap and hand sanitising dispensers are ideal. It is suggested that the best way to wash and/or sanitise your hands in public effectively and safely is to use touch-free soap dispensers. Brightwell Dispensers offers a range of touch free solution to help reducing the spread of infection.
Modular touch free soap or hand sanitiser dispenser
Brightwell Dispensers Modular touch-free dispenser is ideal for dispensing liquid soap or sanitiser. No electrical fitting is required, as each dispenser is economically operated by C size batteries. To ensure optimum cost savings, the device has a 'sleep mode' and a capacitive sensor that prevents accidental soap delivery.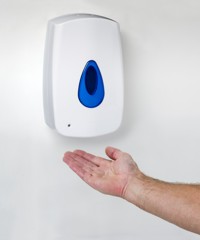 Free-standing hand sanitising stations
Placing hand hygiene stations throughout any premises is becoming essential to help prevent the spread of COVID-19. Brightwell Dispensers offer a telescopic floor stand for their Modular touch free dispenser, making hand sanitiser available anywhere.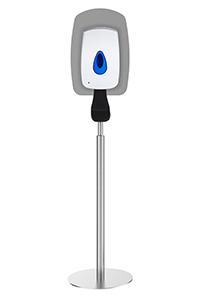 Sanidose - Hand sanitising station for high traffic environments
Sanidose is a new hand sanitiser system with an innovative new design that achieves a consistent and reliable dosing of hand sanitiser. Automatic, touch-free dispensing is complemented by a unique delivery method. The mains-powered Sanidose is a unique hand sanitiser dispenser that does not rely on disposable pouches, cartridges or batteries and offers a capacity range of 3,000 to 50,000 doses, with models to suit every building from small independent cafes to international airports. The versatile Sanidose can be customised with the colour and logo of your choice, allowing the product to blend in seamlessly with its surroundings and become an integral part of your environment.